The University of Houston community is invited to a free screening of the Disney/Pixar film WALL-E. The UH Office of Sustainability is sponsoring the event, which is one of numerous RecycleMania activities taking place across campus. The movie screening will be held at 6:30 p.m. on Thursday, March 5, in the multipurpose room of Oberholtzer Hall.
There will be a make-your-own popcorn bar, water, lemonade, free water bottles, tote bags and a raffle for a WALL-E recycled art piece, as well as a Kindle Fire HD. Faculty, staff, students, alumni and their guests are all welcome to attend.
Learn how to be a rot star on March 10 from 11 a.m. to 1 p.m. at the UH Garden. Speakers from Nature's Way Resources and Pat Greer's Kitchen will take you through composting basics. Soup will be provided in compostable bowls and we'll raffle off a home composter bin! Start collecting your electronics now for the first UH e-recycling drive coming March 26 to the Student Center Circle Drive. Visit the UH RecycleMania website for a complete overview of the competition and upcoming events.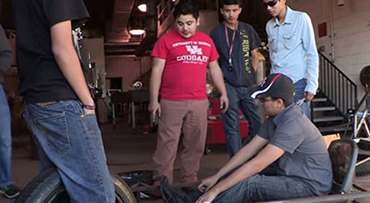 UH students revving up for Shell Eco-Marathon
In the end, it's all about the cars. But for students from the University of Houston and Elsik High School, the path to the Shell Eco-Marathon Americas 2015 has offered much more - learning, mentoring and the opportunity to put classroom lessons into action. Three UH students will head to Detroit April 9-12 for the Eco-Marathon.

UH Energy Symposium Series: Private profit vs. public good
Lower oil prices are making it harder for some Houston energy companies to maintain profits. But is the bottom line all that should matter? Thoughts on 'corporate responsibility' came from a panel at the University of Houston.

Recent UH grad named Forbes "30 under 30" for energy
University of Houston alumnus Casey McNeil is on the newest Forbes Magazine "30 Under 30" list for energy. McNeil launched the company REEcycle with three other UH students. It is paving the way for next-generation clean-energy technologies. REEcycle uses a proprietary process to extract rare earth elements from old electronic devices.
Study investigates the complex roads that lead families to food insecurity
A University of Houston study examined four risk factors for families that can lead to varying degrees of hunger. In her study "The Impact of Cumulative Family Risks on Various Levels of Food Insecurity," Assistant Professor Daphne Hernandez of the Department of Health and Human Performance says families who have challenges accessing adequate amounts of food also have other issues that impact their wellbeing.

Civil engineering student delivers award-winning elevator pitch
Jingjing Fan, a graduate student in the Cullen College's civil and environmental engineering department, delivered an award-winning elevator pitch at the Sustainable Nanotechnology Organization's (SNO) first ever Nano Pitch Contest.
More stories
New street sweeping program keeping campus entrances clean
More than 14,000 new trees are transforming a vital Houston park
Where do your vegetables call home?
Dryers: Homes' energy guzzlers just got greener
Study: High-tech tools across Houston are letting more residents live car-free
Five coming projects on the Katy Prairie
Houston Bicycle Museum opens its doors this week
Reduce, reuse and craft!

Crafting is one of my favorite pastimes. Not only do I like making things, but I particularly enjoy taking items that I would typically get rid of and making them into something that I can use. It's a great way to spend your time and good for the environment.

Throwback post: Develop your green thumb on campus

At the UH Campus Community Garden, the art of growing organic produce is on vivid display. Gardening is an integral part of maintaining a sustainable community, but it's also a fun, relaxing experience!
Summer Undergraduate Research Fellowship
The Summer Undergraduate Research Fellowship program at the University of Houston (SURF-UH) seeks to provide funding for rising UH sophomores, juniors and seniors to participate in a focused, full-time, 10-week research experience (June 1 - August 7) under the direction of UH faculty. This fellowship is open to students of all disciplines. The deadline for the SURF 2015 program is Friday, March 27, 2015.
3R Actions Internship
All schools participating in the RecycleMania 3R Actions Challenge can nominate a passionate undergraduate student leader to lead the 3R Actions Challenge on their campus. This student role would require a weekly commitment of two to four hours. The student will have an opportunity to earn a $250 stipend. Email sustainability@uh.edu if you're interested in this opportunity.
Submit a project to 2015 Ebie Awards
Have you or a colleague made exceptional performance improvements to an existing building? Now in its fourth year, the Ebie Awards from Urban Green Council honor operations, engineering and real estate professionals who conceived and implemented outstanding sustainability initiatives. Submit your project online by March 30, 2015. Finalists and winners will walk the Green Carpet at the Oscar-style awards show in New York City on June 22.

NWF Graduate Student Fellowships
The National Wildlife Federation is seeking graduate students in the U.S. to conduct and test market research and business planning and assist with content development for the new NWF EcoLeaders online community. There will be two track options for the Fellowship: Market Research and Content Development. The Fellowship term will be March - August, 2015 and fellows will receive a $3,000 stipend as well as valuable professional development. The application deadline is March 8.
Fossilized in Houston
Matthew Schneider-Mayerson, a postdoctoral fellow at Rice's Center for Energy and Environmental Research in the Human Sciences, is seeking volunteers (which may lead to paid paid positions) for a public arts campaign he is organizing this spring. "Fossilized in Houston" will commission twenty Houston artists to create images of species that are expected to go extinct as a result of climate change, and these images (along with the name of the species, expected date of extinction, and the project's website, fossilizedhouston.com) will go on hundreds of lawn signs and thousands of posters and stickers all around Houston from March through July. If you're interested in helping in any capacity, email Dr. Schneider-Mayerson at mjs23@rice.edu.