PATIENTS' COUNCIL

Unique opportunity for involvement - Powys Patients' Council
Do you have personal experience of being in an acute mental health unit or are you close to someone who has this experience? If so, a unique opportunity for involvement could be yours.
We are recruiting new volunteers to be involved in Powys Patients' Council. This project is funded by the Powys teaching Health Board, however it is independently managed by PAVO's Mental Health team. Benefits of volunteering with the project include receiving training in mental health awareness, listening skills, influencing senior executives and involves attending monthly visiting sessions. Transport, travel expenses and lunch are provided. You would be part of a group of people helping to resolve issues brought to us by patients on the ward. This plays a big part in making life better for people whilst they are in hospital.
If this sounds like something you'd like to take part in, please contact Freda Lacey, tel: 01597 822191, or email
freda.lacey@pavo.org.uk
. You can read more about the experiences of a current volunteer
here
.
Read the latest "You Said, We Did" update and find out what is happening at Patients' Council on our website
here
.
GET INVOLVED
Stronger in Partnership update
At the Mental Health Planning and Development Partnership meeting on 4th December, Individual Representatives, Meriel Richards, Kate Van Den Ende and Rhydian Parry, raised the postponement of local
Stronger in Partnership
group meetings.
A written response to their question stated: "It was agreed at a previous meeting that the Partnership needed to agree how it would communicate progress and receive feedback in relation to the
Hearts and Minds: Together for Mental Health Strategy.
This needs to include all members of the Partnership and be planned within the Partnership timetable. The value of such a group is understood and we need to build on this as a Partnership".
In the light of this clarification, PAVO will suspend support of SiP as part of its commissioned service. We will keep in touch with all stakeholders and interested parties as to the future of grass-roots participation opportunities.
Wales Mental Health Code of Practice Review
The Welsh Government is preparing to revise the Code of Practice to the Mental Health Act 1983. People in contact with services and those close to them (service users and carers) and professionals are invited to attend one of several workshops which are being arranged across Wales.
8 January - Carmarthen (see flyer here), North Wales and Neath/Port Talbot
-
January 2015,
dates to be confirmed. If you are interested in attending or finding out more, please contact Freda Lacey, Participation Officer, by emailing:
freda.lacey@pavo.org.uk
or tel: 01597 822191.
You can also take part in the pre-consultation review by responding to a questionnaire which you can download from the Getting Involved page of our website
here
.
The official consultation will take place between February - April 2015.
You can find out more about the process by reading about the Review which took place in England recently
here
.
Mental Health (financial) Ringfence review commissioned by Welsh Government
This is now underway and due to be completed by the end of January 2015. Powys Association of Voluntary Organisations, as part of the national network - Mental Health Action Wales, has been involved in helping to create questions that Price Waterhouse Cooper (who are undertaking the review) are asking people to respond to. This is initially being done by electronic means, through the PWC website and will go live week commencing 15 December 2014.
Local focus groups will also be organised, where needed, to ensure the widest engagement possible in this review.
If you would like further information please contact Freda Lacey by ringing 01597 822191 or emailing:freda.lacey@pavo.org.uk
Other featured participation opportunities this month:
The Wales we want - have your say about health and social care on a new website devoted to hearing your voice about all matters relating to Wales. More here.
Community Health Councils in Wales - proposed changes. CHCs represent the interests of patients and the public in the way health services are planned and provided in Wales. Closing date: 9 January 2015. Scroll down the page here.
More about these and other opportunities on our team's
Get Involved
page.
NEWS, EVENTS & TRAINING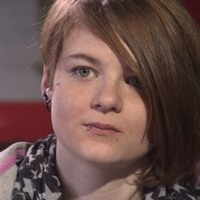 Tuned in to Mental Health - 21 year old Sarah Harmon from Presteigne has made a radio play based on her own experience of mental distress. Sarah wants "to help young people spot the signs when a friend or family member has a mental health problem". She made the recording with the help of Fixers, a project of the Public Service Broadcasting Trust working to tell the stories of young people. More here.


Ponthafren Association, which promotes positive mental health and wellbeing in Montgomeryshire, received the award for 'Recognition of Great & Valuable Services to the Community'. Mr Philip Bowen, High Sheriff of Powys, presented Jan Rogers (Member Trustee) with the Award on Friday 31st October. Find out more about Ponthafren on the charity's new website.

Havin' a Laugh.....



Wyeside Arts Centre in Builth Wells, and Owen Griffkin, comedy impresario, are working on a bid to run some comedy workshops next year (probably late summer). These will be aimed at people who use/choose not to use mental health services, but they are not necessarily about 'mental health', it's about laughing together, building confidence, giving it a go and seeing how far you want to take it. Sessions will be run by experienced workshop leaders - people who are themselves comics, who know comics, who can teach you to and inspire you to join in, perform if you want to, write material, whatever. For more information contact Owen owengriffkin@gmail.com or Bex communityarts@wyeside.co.uk

Deprivation of Liberty Safeguards - want to find out more? Helen Kiteley, the Acting DoLS Co-ordinator for Powys County Council, has recently provided further information about the DoLS procedure for our website. More here.

Want to find out more current news, mental health training dates and what's on? Just click on our website links for the latest:
For events in December click here.
For events in January click here.
For the latest news round up click here.
Featured events & activities this month:
18 December - Carol Singing in Llanidloes with Ponthafren Outreach. More here.
19 December - Knighton Christmas buffet with Mid Powys Mind Outreach. More here.
For more information about voluntary sector services, activities and opportunities in your area either
get in touch with us
or visit our local links page
here
.

JOIN THE DEBATE - POWYS MENTAL HEALTH BLOG
By the time you read this Christmas will almost be upon us. We plan to put up some tips for surviving the festive season on the blog before the break,
so keep your eyes peeled
, and in the meantime, here's what we've been posting about recently:
Dyfed-Powys Police: Dementia Friendly and Neighbourhood Friendly - Dementia Friend Inspector Brian Jones on increasing awareness and understanding of dementia in Powys communities.
Powys Mental Health Alliance Winter Open Day 2014 - Barking Mad.... Stretch and Smile... Dementia Friendly Knighton... and all the rest in a round-up of the day.
Safe, Safe, Safe - Standards for Health for mental health organisations - find out more how you can equip your organisation to provide better, safer services from Lesley Austen, Safe Services Officer at PAVO.
Power and participation Part 1 - Jane Cooke gives us her personal view with her counsellor's hat on.
Power and participation Part 2 - More from Jane Cooke about what we think of the experience of 'madness'.... about people who we categorise as 'ill'?

If you would like to write more about your experiences and views, please get in touch. We welcome guest posts from people who live and work in Powys – you can write anonymously if you wish.

Job vacancies

Featured job vacancies this month:
CAMHS Practitioner. Brecon. Salary £25,783 to £34,530 pa pro rata. Closing date 31 December 2014. More here.
Consultant Child and Adolescent Psychiatrist. South Powys. Salary £72,927 to £94,679 pa. Closing date 4 January 2015. More here.
For information about job vacancies across Powys visit PAVO's website here. For more information about volunteer vacancies across Powys visit the Volunteering Wales website here.

What do you think we should be tweeting about? Let us know. Best of all, tweet us about it! This month in twitter:
Funding News and Advice. PAVO Accredited Funding Services "Know how, know who, know when". More information here.

Find Services In Your Community. Try our website here, or Info-Engine here. If your group or organisation is not yet registered on Info Engine go to www.info-engine.org.uk and add your details. Registration is free, secure, and simple to do. For more information or for help with registering contact Claire Powell PAVO on 01597 822191 or email infoengine@pavo.org.uk
Deadline for the next Powys Mental Health eBulletin.
The next eBulletin is due for circulation week commencing 2 February 2015. Please send any items for inclusion by Monday 26 January 2015 to
pamhinfo@pavo.org.uk
Feedback about the ebulletin
is also much appreciated
please take 2 minutes to tell us!
_________________________________________________
Powys Association of Voluntary Organisations/Cwmdeithas Mudiadau Gwirfoddol Powys
Registered Charity No/Rhif Elusen Gofrstredig 1069557
A Company limited by guarantee 3522144 Registered in Wales
Cwmni Cyfyngedig drwy warant 3522144 Wedi ei gofrestru yng Nghymru