Super happy with the good news!
Now that a number of good vaccines are on the way, we can start thinking about sailing next summer again. There is light on the horizon again and we all really need it. Also for us as an organizer of sailing holidays it is very nice to see that our customers can enjoy sailing again. Fortunately, we have had to postpone very few holidays, but it has been an exciting year. We are sure that 2021 will be another great sailing year!
The Dutch Tourist organisation ANVR also sees it positively, see the video below.
A beautiful video, made by Bright8 in collaboration with the ANVR. We love to travel because it connects, inspires, brings us together and we discover. But, now it is quiet
You can change the subtitles to English in Youtube.
…….
https://youtu.be/dVB1nNWQQ8M
What is your next sailing holiday destination?
New type of boat holiday, the Canal boat
We also offer canal boats for charter. These are motor boats with which you can sail on the canals in 9 different countries. For example in France on the Canal du Midi, read our blog about this Discover the Canal du Midi or the Canal du Nivernais in Burgundy. (
Discover the Canal du Midi or the Canal du Nivernais in Burgundy France (gofunsailing.com)
)
But we can also imagine that you want to go sailing again!
In
flotilla
or
bareboat
with or without
skipper
or on a
Gulet,
a sort of floating hotel.
Please note, if you book before January 1th, you can get nice early bird discounts! It would be a pitty if you miss it.
We notice that bookings are starting to get going, but we also see in booking schedules that quite a lot has already been blocked because sailing holidays from last summer have been re-scheduled. That means that the availability of yachts is less this year. In addition, we will be more selective with which yachts we offer. This season the entire charter business has been hit hard and we only do business with the best charter companies where we are sure that proper maintenance has been carried out.
In winter all yachts have to be taken out of the water. The underwater hull is cleaned and provided with new antifouling. And of course all parts below the waterline are serviced or replaced.
Where can you go sailing with GoFunSailing?
Of course we look everywhere for the charter companies with the best yachts!
Gofunsailing uses sustainable energy
The GoFunSailing website is hosted CO2-neutral and sustainably and that is important to us!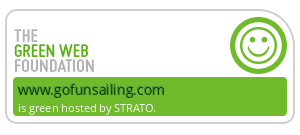 Hottest news and offers on Facebook!


When you like and follow us, you will automatically see all the news!