Today is the last day to pre-register for FuMPFest. Registrations will be taken at the door but if we know how many people to expect we can better prepare for the event, so pre-registering helps us out.
Last Day to Pre-Order This Year's T-Shirt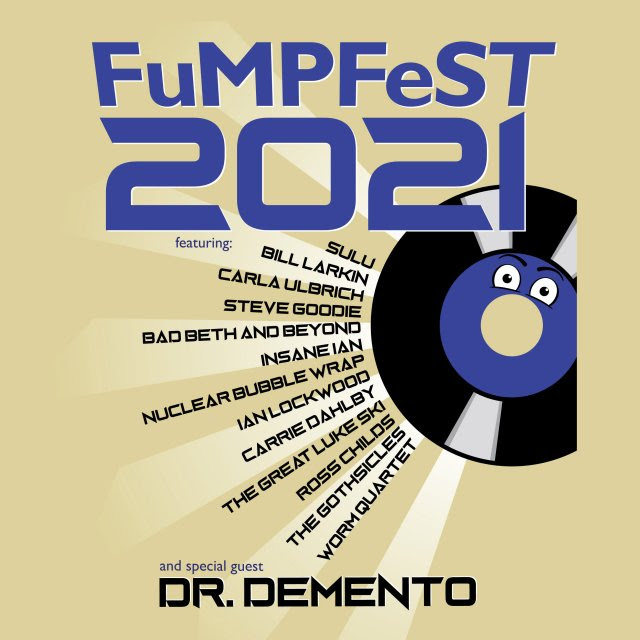 The FuMPFest 2021 t-shirt is now available for pre-order! Order your copy today to guarantee your size and pick it up at the event. Your shipping will be refunded after FuMPFest.
The shirts will also be available at Table 27 during the event, but there will be a limited supply and we can't guarantee we will have your size. We strongly recommend pre-ordering the shirts now.
Room Block Closes Tomorrow at 5pm
Tomorrow at 5pm Central is your last chance to book your room and get into our room block. Rooms are $119 a night and we need to fill the room block to offset the cost of the event space, so please help us out.
Last Day to Enter Our Video Contest
Today is the last day to enter our video contest! Make a video for a FuMP song and you could win two free badges to a future event and two nights in the hotel. See the website for full rules and to enter.

~ ~ ~ ~ ~

- FuMPFeST 2021 is on and in-person,
with our Guest of Honor Dr. Demento
celebrating his 50th Anniversary!




FuMPFeST returns to it's original hotel and returns to being an in-person event where we will be celebrating the 50th Anniversary of "The Dr. Demento Show" with the good Doctor himself as our Guest of Honor! And I, the great Luke Ski, am lucky enough to be one of this year's booked scheduled performers! Woo-hoo! It will be so great to see all of you again!

Events:
DR. DEMENTO'S FESTIVAL OF DEMENTIA
The 11th Annual Logan Whitehurst Memorial Awards for Excellence in Comedy Music
The FuMPFeST Music Video Contest
The "Dumb Parody Ideas" Contest and more!

Performing 1-Hour Concerts:
INSANE IAN (who is also our MC for the weekend)
BAD BETH AND BEYOND
BILL LARKIN
CARLA ULBRICH
CARRIE DAHLBY
IAN LOCKWOOD
NUCLEAR BUBBLE WRAP
ROSS CHILDS
STEVE GOODIE
THE GOTHSICLES
WORM QUARTET
and THE GREAT LUKE SKI!

Appearing:
SULU - One of Dr. Demento's original live radio show crew!
DEVO SPICE - the Con Chair who made all of this possible!
CHRIS MEZZOLESTA - on the ones and twos!

FuMPFeST convention registrations are being accepted online until July 31, 2021, after that you'll have to buy them at the door. The Hotel Room Block rate closes at 5pm Centrral time on August 1, 2021, so please make your hotel reservations as soon as possible to help us fill our room block by August 1st. To register, get links for the Hotel Room block, and for all other information about FuMPFeST 2021, visit our website.

FuMPFeST 2021
http://fumpfest.com
The Westin Chicago North Shore - Wheeling, IL
August 20th, 21dt, & 22nd, 2021