Jun 30, 2021
Prepare for a Bathroom Remodel
Enduring a bathroom remodel can be a challenge, especially in a busy household where parents used to having a master bathroom of their own have to share with the kids. But if you know what to expect and do some planning, organizing …
Houzz
What is Farm Cottage Style
Have you ever had trouble pinning down your exact style? Is it simply cottage, or does it have hints of romance with touches of vintage …
Cottages And Bungalows
How to Build a Floating Shelf
To arrange an open shelf is to create a vignette, be it a collection of handcrafted ceramics in the kitchen or artwork, souvenirs, and …
Dwell
Smart Ways to Prevent an Oven Fire
As families come and go from the home throughout the day, the kitchen serves as a main hub for fueling up. But with multitasking a major …
Bob Vila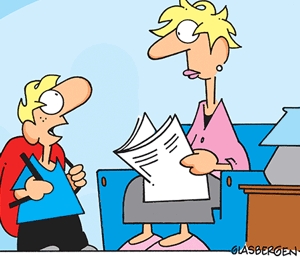 At survival camp, I learned how to make an iPod from mud and twigs and mud.


Copyright © Randy Glasbergen
Gone With the Wind Published
Margaret Mitchell's Gone with the Wind, one of the best-selling novels of all time and the basis for a blockbuster 1939 movie, is published.
The day was Jun 30. What year was it?
Quote of the Week
"My home is in Heaven. I'm just traveling through this world."
Billy Graham
Trivia
What oceanfront area is currently the most popular choice among people searching for second homes and vacation homes?
See the answer below.