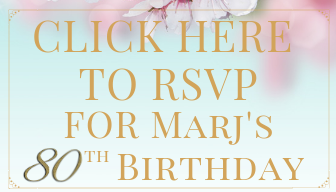 Feel free to share this invitation with friends that you know
would also like to be present with us that day!!

---

JOIN US TO CELEBRATE MARJ BRITT 80th BIRTHDAY
on Saturday April 27th at Unity of Tustin
Anyone who loves Marj and would like to join us to celebrate her birthday is welcome!
What?
A Celebration for Marj's 80th Birthday:
A time of celebration and appreciation for Marj!
Where?
at Unity of Tustin
14402 Prospect Ave, Tustin, California 92780
When?
Saturday April 27th:
2:30 pm: Arrival time for guests, including name tags, guestbook, bringing the food/drinks contributions, etc
3:00 pm: Celebration in the Sanctuary begins! 

Including shares of special moments and memories, contributions, & live music (use RSVP link to add your own)
Followed by Birthday Cake & Toast
+ Food/drinks "community style" outside (use RSVP link)
We expect to (likely) say goodbye around 7 pm yet this is flexible ;)
RSVP & CONTRIBUTIONS:
Please take a few moments to RESPOND USING THE RSVP LINK.
This will help us greatly with the planning of the next steps.
You can indicate on the form if and how you would like to contribute, you can also include questions and suggestions.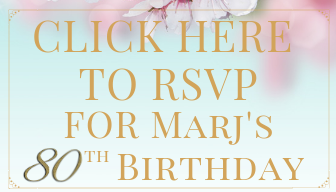 I had the pleasure to surprise Marj today on her actual birthday (Monday April 15th) to let her know about this celebration. I so appreciate everyone who helped keep it a surprise. She said: "I appreciate it immensely. It will be wonderful!" and she is feeling "Deep Love and Gratitude for the opportunity to celebrate together the amazing years we shared together"!
You are now welcome to share the invitation with friends that you know would like to be present with us that day as well! You are welcome to forward this email or send them to:
So looking forward to being all together for this celebration!
---

Also, that you can join us on Saturday April 27th, or not, we are also looking forward to being together again on our next Worldwide Called By Love Institute Call that will take place on "Global Love Day" on May 1st, 2019 at our regular time (10 am pacific time). As usual, you can expect the message from Marj about the call in your email box the day before, on Tuesday. However, make sure to already keep the date in your calendar.

One more time... HAPPY BIRTHDAY again to our Beloved MARJ today :)

With our deep Love & Gratitude!

Fabienne & Friends ;)