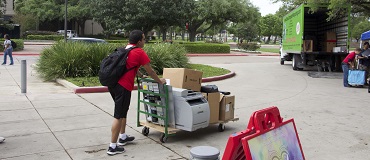 Do you have an old desktop computer or DVD player collecting dust in a closet? Is your outdated cell phone or tablet just an expensive paperweight? Donate them and other out-of-date, unused electronics at the University of Houston Office of Sustainability's third annual electronics recycling drive. The drive, being held in conjunction with Bass Computer Recycling, will take place from 8 a.m. to 1 p.m. Friday, Feb. 24, at the Student Center South Circle Drive. The Office of Sustainability is hosting the event as part of the national RecycleMania competition.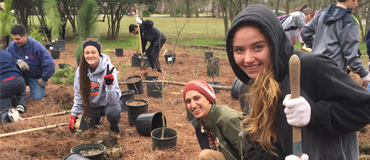 UH Receives Tree Campus USA Certification for Second Year in a Row
For the second year in a row, the University of Houston has earned Tree Campus USA certification from the National Arbor Day Foundation for its commitment to effective urban forest management. UH achieved the certification by meeting Tree Campus USA's five standards, which include maintaining a tree advisory committee, a campus tree care plan, dedicated annual expenditures for its campus tree program, an Arbor Day observance and a student service-learning project. UH is one of 296 campuses in the United States to receive this honor.
Office of Sustainability, UH Music Library will Mix Creativity and Sustainability at Upcoming Meetup
The Office of Sustainability is partnering with the UH Music Library for a specially-formatted sustainability meetup that will encourage participants to unleash their creative side and be sustainable at the same time. The meetup, which will take place Tuesday, Feb. 28, from 11 a.m. to 1 p.m. in the Moore School of Music Library (Room 220), will focus on upcycling. In this case, attendees will learn how to create their own book bags using plastic grocery bags.
More than a Runaway Problem: UH Researcher Tackles Youth Homelessness
Youth homelessness is a troubling issue in Texas, but determining the exact number of children affected at any given time and how to help them is challenging. The University of Houston Graduate College of Social Work (GCSW) led a team of researchers, policy advocates and young people who have experienced homelessness to compile a list of recommendations for lawmakers. The report addressing youth homelessness will be used as a resource for lawmakers during the 85th Legislative Session.

Art For Your Health Walks to Continue in Spring Semester
The Art for Your Health Walks, a weekly initiative that allows the UH community to improve their health while learning more about campus art, will continue during the spring semester. The walks, which were launched in the fall semester and proved to be popular among faculty and staff, are a collaboration between the UH Public Art Collection, POWER UP Employee Wellness and the Blaffer Art Museum. The walks will be conducted at a brisk pace with stopping points at various outdoor works of art.
More stories
Guest blog: The Most Harmful Electronics to Dump and Why You Should Recycle Them

According to Earth911.com, people in the United States alone throw away approximately 9.4 million TONS of old electronics each year. Out of the billions of dollars that we collectively spend on gadgets like smartphones, tablets, laptop computers and more, only 12.5% of that e-waste is ever properly recycled-the rest often sits in landfills, doing more harm than good to our precious planet.

Meanwhile, in the community garden

During the first two weeks of February we harvested 22.41 pounds of radishes, carrots and greens from the garden! Our winter greens are starting to bolt, so soon we will be uprooting them and replacing them with spring plants. Dill and cilantro have emerged from seeds that likely fell off their mother plants last summer. We are eager to begin our spring planting and see our bluebonnets and wildflowers sprout! This month, we started lettuce, foxglove, dill, tomatoes and poblano peppers from seed in our greenhouse.
Clear Lake Gem and Mineral Society Scholarship
The Clear Lake Gem and Mineral Society awards at least $500 to up to four applicants each year to fund courses in Geology, Mineralogy, Geophysics or Paleontology at any accredited university or college as part of a course of studies in Earth Sciences. To be eligible, applicants must be a high school senior or currently enrolled in an accredited 2- to 4-year college or university and in an established course of study towards a degree in Earth Sciences. The deadline is May 1, 2017, but applicants are encouraged to apply as early as possible.

The Desk and Derrick Educational Trust Scholarship
The Desk and Derrick Educational Trust awards scholarships for books and tuition to applicants who are enrolled in at least their second year of undergraduate study at a college or university. Eligible students must be a citizen of the United States or Canada, and plan a career in the petroleum, energy or allied industry, or research and development of alternative fuels such as coal, electric, solar, wind, hydroelectric, nuclear, and ethanol. Applications are due no later than April 1, 2017.

NEHA/AAS Graduate and Undergraduate Scholarships
The National Environmental Health Association and the American Academy of Sanitarians have established education in environmental health (EH) as one of their principle goals. In 1996, NEHA and AAS decided to jointly fund undergraduate and graduate EH scholarships and call them the NEHA/AAS Scholarships. Funding for the scholarships is continually obtained from donations, proceeds from association fundraisers and NEHA/AAS donation commitments. By offering the NEHA/AAS Scholarships to eligible undergraduate and graduate students, NEHA and AAS hope to positively contribute to the future of Environmental Health. Applications must be received by the scholarship office no later than March 15, 2017.
Full-time openings
Artist Boat seeks Habitat and Stewardship Program Manager
Air Alliance Houston seeks Development Director
Air Alliance Houstion seeks Communications Director

Part-time openings and internships
Texas Commission on Environmental Quality transitions program
Wood Hole Partnership Education Program seeks summer interns