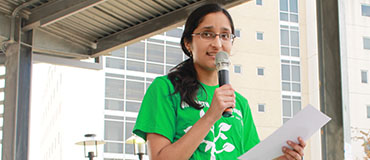 In conjunction with this year's Sustainability Fest, the UH Office of Sustainability conducted a sustainable poetry contest. Open to students, faculty and staff, the contest aimed to reinforce the festival's theme that sustainability is much more than recycling. Of the 12 entries received, Sujata Gautam's "The People that Loved the Land" came in first place, earning her a $50 gift card. Two entries tied for second place: Laura Lee's "Tomorrow" and Katie White's "I Sought Enlightenment in the Manner of my Ancestors." All of the entries are posted on the Office of Sustainability's website. Photos from Sustainability Fest can be viewed on Facebook.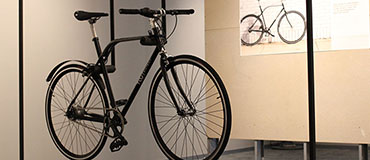 UH students peddling bikes designed for Houston
Throughout the fall semester, a team of University of Houston student designers learned the ins and outs of biking in Houston. They then built and branded bicycles specifically for the Bayou City.

A&F student spotlight: Graduate assistant Gabe Durham
Gabe Durham has spent a lot of time over the past few months poring over data. Since August, he's worked in the Office of Sustainability, helping collect information about sustainability efforts here at the University of Houston.
Freshii bringing fresh and healthy custom meals to the Student Center
Freshii offers a variety of healthy menu choices that incorporate fiber-rich, slow-burning carbs, essential fats and lean proteins. Guests can choose from chef-designed entrees or customize their own bowl, wrap, salad or soup to fit their specific dietary needs. The restaurant will open on Jan. 21 in the Student Center.
Bicycle repair station installed at Cougar Village II
Students who use bicycles to get around campus now have a place to go and make minor repairs or fill up a tire that is low on air. A bicycle repair station, complete with air pump and tools, recently was installed outside of the Cougar Village II residential facility.
UH to offer graduate certificate in upstream energy safety
The certificate program consists of four sequential courses, culminating in a capstone project drawing upon knowledge of emerging safety and environmental issues in the United States and globally. The courses cover health, safety and environmental issues, including regulatory policies, emergency crisis management and health, safety and environmental leadership.
More stories
UH professor honored for materials research, STEM outreach
Superconductivity fueled new era of energy research
Ocean Energy Safety Institute hires Paul Robinson to work with industry
EPA awards Texas $2.5 million to reduce water contamination risk in underground tanks
Houston gardens able to grow many fruits with little maintenance
EPA proposes to tighten ozone limits under Clean Air Act
Harris County Precinct 4 green roadway serves as model for county
REdefine your holiday celebrations

It's that time of year again. The stockings are hung with care, the menorah is lit, and there is a sense of umoja (unity) among us. The holiday season allows us to reflect on the year, spend time with loved ones, indulge in nostalgia, share in laughter and joy, and offer our thanks to those we love.




Throwback post: UH architecture students aim to improve local communities

When you hear the phrase "quality of life", what comes to mind? For some, it means access to affordable and fresh food. For others, it's neighborhoods that provide an opportunity to utilize alternative modes of transportation. For UH architecture students, it means all of these – and more.
Apply for the Udall Scholarship
The Morris K. Udall and Stewart L. Udall Foundation expects to award 50 scholarships of up to $5,000 and 50 honorable mentions to sophomore and junior-level college students committed to careers related to the environment, tribal public policy, or Native American health care. The UH deadline to apply is Feb. 9, 2015.
HAUFC tree planting competition
The Houston Area Urban Forestry Council will be holding its 8th annual Regional Tree Planting Competition on Feb. 7, 2015. To participate, you must form an 11-person team. The registration deadline is Feb. 2.

Wege prize for Ecoleaders solving wicked problems
Are you a registered NWF Ecoleader who is working to solve a wicked problem? If yes, then you are well positioned to contend for $30,000 in total cash prizes, but you need to form a team and register by Jan. 11, 2015. Register to become an NWF Ecoleader.
Texas Wildlife Association seeks conservation legacy education contractor
Trust for Public Land seeks senior projects manager
Bike Houston seeks advocacy intern
Texas Campaign for the Environment seeks part-time and full-time community organizers