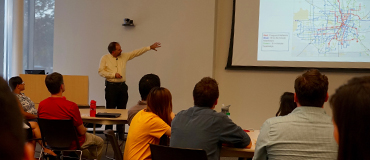 On September 1, METRO board member Christof Spieler spoke to students, faculty and community members about METRO's improved bus network and the importance of mass transit. The event was part of the Sustainability Meetup series put on by the Office of Sustainability. Representatives from METRO, Star Vanpool, and Parking and Transportation Services were also there to engage with attendees and educate them about alternative transportation options.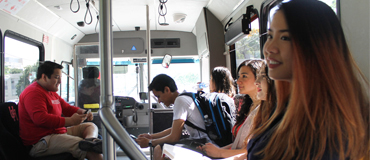 UH Parking and Transportation launches the COAST program
Parking and Transportation Services has kicked off the year with a new program designed to promote sustainable transportation and ease parking difficulties. Coogs On Alternative Sustainable Transportation, or COAST, encourages carpooling and public transportation usage by offering discounted parking permits and subsidized METRO travel.

UH receives top honors for diversity
The University is honored to announce it has received three Higher Education Excellence in Diversity (HEED) awards from INSIGHT into Diversity Magazine, the oldest and largest diversity-focused publication in higher education. This is the first time an institution has earned three HEED awards in a single year, which will be presented to the University of Houston, the UH Law Center and the UH School of Nursing.

Sustainability Office talks urban gardening
Representatives from the University of Houston Office of Sustainability discussed urban gardening at a Wellness Lunch and Learn hosted by UH Human Resources. Sustainability Coordinator Melissa Halstead, Office and Team Lead Nikhil Schneider and Garden Assistant Alex Rogers talked about urban and community gardening at the Aug. 23 event. They provided tips on how people could set up their own container gardens at home, and they discussed some of the benefits of having and working in a community garden.

Houston's bike paths now go further than ever
Houston's bike network got an expansion on July 30 with the grand opening of Guadalupe Plaza Park in the east end of downtown. The park sits near the banks of the Buffalo Bayou, which serves as a major artery for pedestrians and cyclists alike. Expanding bike lanes will give more people access to thoroughfares like the bayou and enable more bike transit throughout Houston.
More stories
Seven tips for becoming vegetarian

In this blog, vegetarian is an umbrella term that could mean anything from lacto-ovo-vegetarian (a diet including eggs and dairy) to vegan (a lifestyle excluding all animal products.) I became lacto-ovo-vegetarian several years ago but transitioned to vegan as I learned the true cost of consuming animal products.

Throwback Post: Composting 101

Compost is easy to make and easy to use. Even if you don't have indoor house plants to add your fresh soil to, you can contribute to your local environment by dumping the finished compost in a nearby park and letting nature use it. Compost has the same needs that any living being has: food, water, oxygen, and space.
Texas Garden Clubs Scholarship
Texas Garden Clubs, Inc. gives annual scholarships to Texas resident students who are college-level juniors or above. Applicants must have at least a 3.25 GPA and be majoring in a field of horticulture. The fields of horticulture included are floriculture, landscape design, horticulture, botany, biology, plant pathology, forestry, agronomy, environmental concerns, city floriculture planning, land management and other allied subjects. The application deadline is October 1 for a scholarship given the following spring/winter semester.

NOAA Undergraduate Scholarship Program
The EPP/MSI Undergraduate Scholarship Program provides scholarships for two years of undergraduate study to rising junior undergraduate students majoring in Science, Technology, Engineering and Mathematics (STEM) fields that directly support NOAA's mission. Participants conduct research at a NOAA facility during two paid summer internships.

Project Green Challenge
Beginning on October 1, 2016, Project Green Challenge (PGC) engages high school and college students globally. This powerful and diverse call to action features 30 days of environmentally-themed challenges, providing students with mentorship, advocacy, and leadership skills.
Sustainable Coog Series
The Sustainable Coog series recognizes University of Houston community members who live sustainably and/or contribute to social, economic or environmental sustainability. UH students, faculty, staff and alumni are encouraged to nominate themselves or others to be included in the series. Selected applicants will be featured in the UH sustainability blog, website and social media platforms. Winners will also receive a Sustainable Coog prize package. Submit the
nomination form
to be considered.
Full-time openings
Air Alliance Houston seeks development director and teaching artist
Memorial Park Conservancy hiring conservation zone supervisor
Houston Zoo seeking Children's Zoo supervisor
Houston METRO seeking urban designer

Part-time openings and internships
Urban Harvest seeks youth garden educator
UH Office of Sustainability hiring graduate assistant
Houston Children's Museum seeking graphic design intern and development intern