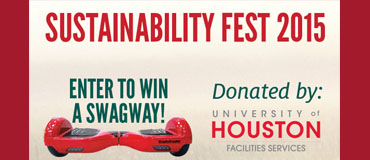 University of Houston's Facilities Services has become a platinum sponsor to Sustainability Fest for its donation of a SwagWay and safety equipment. The items will be given to the winner of a special social media contest during Sustainability Fest, which takes place Tuesday, Nov. 17 in Lynn Eusan Park.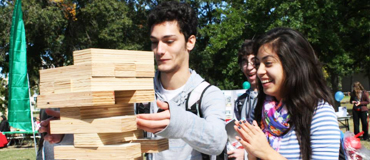 City of Houston reaches Sustainability Fest platinum sponsor status
The city of Houston's Office of Sustainability has become a platinum sponsor, the highest-level sponsorship status to Sustainability Fest, for its donation of VIP family four packs to the 66th Annual H-E-B Thanksgiving Day Parade on Thursday, Nov. 26 and the 96th Annual Mayor's Holiday Celebration and Tree Lighting Presented by Reliant, an NRG Company on Friday, Dec. 4.

UH projects earn honors for keeping Houston beautiful
Recently, the city of Houston celebrated the movers and shakers who do their part to make the metropolitan area a beautiful place to live and work. The Mayor's Proud Partner Awards - presented by Keep Houston Beautiful - were presented on Monday, Oct. 26 and a number of University of Houston projects were recognized for enhancing the city's landscape.

UH Energy Symposium to consider carbon taxes
The idea of a carbon tax isn't new - more than a dozen countries around the world have one in place - but the idea of assessing a fee on fuels based on their carbon content has been controversial in the United States. A panel of speakers will tackle that topic along with other methods of carbon pricing including cap and trade and regulating carbon.

UH Moment: 'Nutrition Research'
Cheryl Woolf is a nutrition education student at the University of Houston and future registered dietician. She's working with the Houston Food Bank on a plan that would encourage smaller food pantries to broaden their scope of assistance by networking with neighboring pantries.
More stories
Sustainable Architecture: Q&A with Lauren

For me, it's the convenience of sustainability in general that I can closely relate to, which is kind of funny and almost ironic. When I bike, I do it for convenience. When I eat a vegetarian diet, I do it for convenience. The same goes for living and building sustainably. Think about it: it's cheaper in the long run, easier to maintain, and much more functional.




Throwback Post: Is there a cure-all for the Keurig?

The Keurig coffee machine is becoming a household staple. It's convenient and easy to use - simply insert the flavorful pod of your choice, confirm that there's enough water in the reservoir, push a couple of buttons, and in a few minutes, you have your single-serving caffeine fix. If you can't live without your Keurig, reuse your K-cups for projects like beautifying your home!
NWF EcoLeader Ambassador
EcoLeaders is NWF's national environmental leadership certification and career development program. NWF is seeking EcoLeader ambassadors to help recruit peers and grow their community. Ambassadors will be asked to recruit new EcoLeaders in the community, conduct direct outreach to student environmental leaders and submit weekly progress reports. Ambassadors will receive guidance and support to implement a successful outreach campaign. A monetary stipend will be awarded to participants at the end of a six-month period. Submit your application by 5 p.m. Thursday, Nov. 12.

25 for 25 Partnership Program
Funding through the 25 for 25 program is designed to help individuals and groups organize clean-ups, trail maintenance work days and other stewardship projects. Funds can be used for everything from feeding volunteers to purchasing equipment, trash bags and tools. If approved, recipients can receive up to $2,000 to fund their restoration projects. Submit your online application by Dec. 1.

Environmental Protection Agency: P3 Student Design Competition
EPA's P3 (People, Prosperity and the Planet) program is a unique college competition for designing solutions for a sustainable future. For the first phase of the competition, teams are awarded a $15,000 grant to develop their idea. Teams then bring the design to the National Sustainable Design Expo to compete for the P3 Award and a grant of $75,000 to take their design to real-world application. Learn more about how to apply for a P3 grant. Submit your application by Dec. 8.

Apprentice Ecologist Initiative Scholarship
The Apprentice Ecologist Initiative has engaged thousands of young volunteers from around the world in environmental cleanup and conservation projects since 1999. To become an official apprentice ecologist and qualify for a scholarship, you must be between the ages of 13 and 21, conduct your own ecological project, document your project in action, write an essay about what your project meant to you, and register with the Nicodemus Wilderness Project by midnight GMT on Dec. 31.
Full-time openings
Galveston Bay Foundation seeks education coordinator
University of Houston seeks program coordinator
Plant It Forward seeks local produce logistics manager
University of Houston seeks safety specialist

Part-time openings and internships
City of Houston seeks recreation assistant
Houston Zoo seeks horticulture technician
Texas Campaign for the Environment seeks community organizers