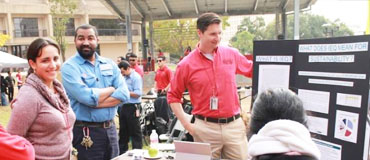 When this year's Sustainability Fest takes place Nov. 17 in Lynn Eusan Park, it will include a few additions designed to make the event a better overall experience for everyone involved. The annual gathering, which will be held from 11:30 a.m. to 1:30 p.m., will for the first time this year culminate with a social bike ride around and near the campus. UH students, faculty and staff are being invited to take part in the ride, which will be an informal way for those interested in sustainability issues to meet up with others who share the same passion.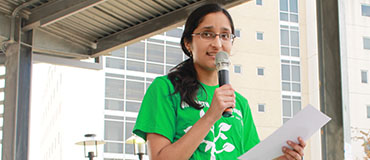 Creative Expressions Contest seeks entries
Students, faculty and staff can win prizes by creating a written work or visual art piece for a contest being organized as part of the upcoming Sustainability Fest. The submission deadline for the creative expressions contest is Friday, Nov. 6, at 5 p.m. Written pieces can include poetry, short stories, articles, letters and songs. First-place winners will receive a $100 gift card.

UH students feeding community members with new campus kitchen
Members of Houston's Third Ward community are receiving healthy meals delivered to their door courtesy of University of Houston students. This fall, a group of UH students launched a program aimed at preserving unused food from University dining facilities and serving it to Houstonians.

Industry veteran named director for Subsea Systems Institute
Bill Maddock has been named director of the Subsea Systems Institute, a national research center established in Houston to develop the transformative technologies, engineering and operational practices to safely and sustainably produce deepwater offshore energy resources.

UH launches program to promote energy intelligence
The University of Houston has launched the UH Energy Fellows program, a group of 10 experts from a variety of disciplines. UH faculty will write for a new UH Energy blog and offer other public outreach on their topics over the next year with the goal of expanding energy literacy.

UH professor Susan Rogers named architecture educator of the year in Houston
Rogers' efforts have earned praise from colleagues, students and community members. Recently, they also were acknowledged by the American Institute of Architecture's Houston chapter. Rogers, an associate professor in the University of Houston's Gerald D. Hines College of Architecture, was named AIA Houston's Educator of the Year.
More stories
This was your trash

For as long as I can remember, I have been frugal. As a homeowner, my frugality and love for building merged as I discovered the joys, and sometimes disappointments, of saving money by "doing it myself." My passion for sustainability gave my DIY projects a new theme – using trash to build treasures.




Throwback post: Have a green Halloween

Every year Halloween comes around, and we can't wait to get our costumes ready! Who doesn't love the fun decor, goodies, costumes and scary movies? Festivities can come with a hefty price tag, but they don't have to! There are many things you can create by spending very little or simply searching through your closet.
Amphibian Survival Alliance Seed Grant
Seed grants are normally provided in amounts ranging from $500-$1,000 and are designed to help kick start projects or allow teams to try new innovative approaches to address conservation, research and education challenges. Successful applicants to the Amphibian Survival Alliance Seed Grant program will have projects that address specific challenges in amphibian conservation. Submit your application by Dec. 1.

Environmental Protection Agency: P3 Student Design Competition
EPA's P3 (People, Prosperity and the Planet) program is a unique college competition for designing solutions for a sustainable future. For the first phase of the competition, teams are awarded a $15,000 grant to develop their idea. Teams then bring the design to the National Sustainable Design Expo to compete for the P3 Award and a grant of $75,000 to take their design to real-world application. Learn more about how to apply for a P3 grant. Submit your application by Dec. 8.

National Garden Club Scholarship
NGC is proud of its college scholarship program which offers financial aid to students majoring in fields of study related to horticulture and the environment. Applicants must be planning a career related to gardening, landscape design, environmental issues, floral design or horticulture. One-year scholarships are available to juniors, seniors and graduate students pursuing a master's degree. Apply by Feb. 1.

Apprentice Ecologist Initiative Scholarship
The Apprentice Ecologist Initiative has engaged thousands of young volunteers from around the world in environmental cleanup and conservation projects since 1999. To become an official apprentice ecologist and qualify for a scholarship, you must be between the ages of 13 and 21, conduct your own ecological project, document your project in action, write an essay about what your project meant to you, and register with the Nicodemus Wilderness Project by midnight GMT on Dec. 31.
Full-time openings
SWCA Environmental Consultants seeks wetland ecologist
Buffalo Bayou seeks volunteer supervisor
University of Houston seeks animal technician
Plains All American Pipeline, L.P. seeks environmental permitting and compliance specialist

Part-time openings and internships
The Student Conservation Association seeks program assistant
UH Wellness seeks spring intern
Nutty Scientists Fort Bend seeks instructor
The Student Conservation Association seeks partnership intern