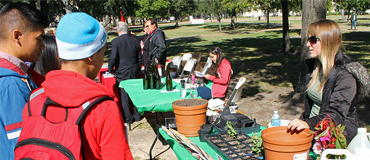 Join the Office of Sustainability from 11:30 a.m. to 1:30 p.m. on Wednesday, Dec. 3, at Lynn Eusan Park for Sustainability Fest! The first 500 attendees (with valid Cougar Cards) will receive a tote bag filled with a sustainability bookmark, reusable water bottle and general sustainability information. Festivies include a healthy cooking demo, Nissan Leaf test drives, a yoga demonstration, poetry readings, a weather balloon launch and more!

If you're interested in volunteering for the event, review the volunteer stations and shifts online and email sustainability@uh.edu by Thursday, Nov. 20 with your shift availability and station preference.

Students, faculty and staff are encouraged to enter the sustainable poetry contest. Submit a poem to sustainability@uh.edu for a chance to win one of three $50 gift cards. The submission deadline is Nov. 24 at 5 p.m.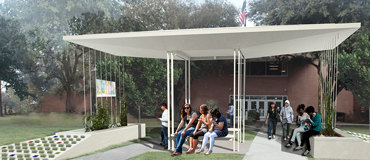 UH projects earn kudos for enhancing city's landscape
Several members of the UH community are focused on making Houston a better and more beautiful place to live. Recently, Keep Houston Beautiful recognized UH's efforts to enhance the city's landscape.
UH featured in Sustainable Business Magazine
UH Sustainability Program Manager Sarah Kelly spoke to Sustainable Business Magazine about how the University's sustainability efforts are embracing current trends and incorporating new technologies and practices.
Water bottle filling stations a hit as usage surpasses million mark
In the 18 months since Facilities Management installed the first UH2O water bottle filling station on the University of Houston campus, they have been used more than 1.1 million times.
UH moment: Zipcars give UH students access to affordable rental cars
With more students than ever now living on the UH campus, transportation options have expanded. Beyond traditional public transit choices, including the METRO rail that is currently under construction, Zipcar vehicles are now parked throughout campus.

UH students compete for best environmental design ideas
Eight teams involving about 40 UH students from a mix of academic disciplines will compete Saturday, Nov. 22, for a top prize of $5,000 and the possibility of having their ideas incorporated in the final design for the new HISD Energy Institute High School.

A&F student spotlight: Bike program coordinator Jeremy Gor
As president of the Cougar Cycling and Triathlon Sports Club, Jeremy Gor spends a lot of time riding and racing bicycles. So when the Office of Sustainability recently created a bike program coordinator student worker position, it seemed logical that the sophomore kinesiology major would be a great choice to fill it.
More stories
UH chemists develop porous molecules that bind greenhouse gases
U.S. and China reach historic climate change deal, vow to cut emissions
UH's Thomas Colbert named educator of the year by AIA Houston
U.S. energy independence: Good for the nation?
Horticulture society keeps students grounded
UH Dining partners with BOUNCE to educate parents on healthy eating
UH gardening series: Secrets of indoor planting

Plants are amazing organisms that have evolved side by side with us since the beginning of time. They can survive in almost any environment- even your dorm room! Finding the perfect plant is akin to getting a pet. There's a little bit of research involved but it's well worth it in the end.

Throwback post – Misleading food labels:
Q & A with Temple Northup

Just in time for Thanksgiving, check out this throwback blog post:

Have you ever been fooled by words like natural or antioxidant on food labels? We recently spoke with UH communications professor Temple Northup, Ph.D. about his

research into misleading food labels

.