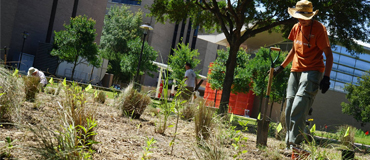 On May 7, volunteers and workers from the Office of Sustainability seeded and planted native grasses in a patch of land outside Science and Research Building 2. The miniature grassland, known as a pocket prairie, is made up of Gulf Muhly, Eastern Gamagrass, and other grasses and forbs found in the Gulf Coast Prairie. Shasta's Prairie will serve as a habitat for birds and insects and provide students with the opportunity to conduct ecological research.
UH architecture students envision new housing and amenities for Houston's Third, Fifth Wards
Undergraduate students working with professors Susan Rogers and Ronnie Self were tasked with developing an architecture program for vacant sites along the Dowling Street corridor (between Alabama Street and Pierce Street), which was once the Third Ward's commercial hub. Students produced 22 designs that range from small lot single-family housing to block-scaled mixed-use development. Collaborators for this project included artist and Project Row Houses founder Rick Lowe, Project Row Houses and the Emancipation Economic Development Council.

Office of Sustainability student places third in national competition
UH Office of Sustainability communications assistant Gabriela Contreras placed third in the NACAS national student author contest. Her essay, "Auxiliary Services: The Push Behind Sustainability at the University of Houston," will be published in an upcoming issue of College Services magazine, the organization's quarterly magazine. She will also receive $400, courtesy of Starbucks, which sponsored the competition.

Grace Deal wins earth week drawing for foldable bicycle
After participating in Earth Week events in April, UH arts student Grace Deal is the lucky winner of a brand new foldable bicycle. Deal will claim the prize in the fall semester. "I feel like I never win anything, so I was really excited to find out I'd won the drawing," said Deal. Students, faculty and staff had the opportunity to enter the Office of Sustainability's drawing for the bicycle by participating in the many events that went on during Earth Week April 15-22.

Graduate students learn about 'The Natural Resource Curse'
UH offers the Global Energy Development and Sustainability certificate through a series of three classes as part of a new graduate program that debuted this spring. Students in this new interdisciplinary course learn about the troubled history of energy exploration in Africa and other developing countries and discuss ways to change the future.
More stories
Sustainable Coog Series: Cesar Muro

For Cesar Muro, animals are a vital part of our livelihood. A junior pursuing a bachelor's degree in biology, his dedication to animals has defined his career goal: to become a veterinarian.

Throwback Post: Eat Local

Many Houstonians are constantly multitasking on the go. When meals are rushed, we often make the most convenient food choices, which aren't typically the healthiest choices.
World Oceans Day Festival Art Contest
The contest is open to ocean-lovers of all ages. Artists may use the medium of their choice. Artwork should consist primarily of non-glass debris that could otherwise end up in the oceans. Artwork will be displayed and judged at the World Oceans Day Festival at the Stewart Beach Pavilion. There is no submission fee, but any donations can help support activities geared toward reducing marine debris in the oceans. Art pieces may be submitted between Monday, May 30, and Friday, June 3, from 8 a.m. to 5 p.m. at the Artist Boat Office.

Environmental Science and Engineering Scholarship
The Gulf Coast chapter of the Air & Waste Management Association awards scholarships to students studying environmental engineering, science, geology, chemistry, or another environmental field. Applications will be accepted through May 31.
Sustainable Coog Series
The Sustainable Coog series recognizes University of Houston community members who live sustainably and/or contribute to social, economic or environmental sustainability. UH students, faculty, staff and alumni are encouraged to nominate themselves or others to be included in the series. Selected applicants will be featured in the UH sustainability blog, website and social media platforms. Winners will also receive a Sustainable Coog prize package. Submit the
nomination form
to be considered.
Full-time openings
Bayou Land Conservancy Seeks Executive Director
Levy Park Conservancy hiring park director
U.S. Fish and Wildlife Service hiring supervisory fish and wildlife biologist

Part-time openings and internships
Bayou Land Conservancy seeks marketing intern
UH Office of Sustainability hiring graduate assistant
UH Office of Sustainability hiring outreach assistant
The Council for Environmental Education hiring program assistant intern