Sustainable Landscape Design: Presented by Denise Sandoval of
Good Natured Landscapes
August 21, 2016 2:30-4:30 PM
Room 259, The Priory, 7200 W. Division St., River Forest, IL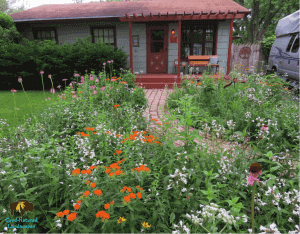 Presentation Description: Learn tips and suggestions for designing a more sustainable landscape which includes various elements such as wildlife habitat, water, and energy conservation. Denise Sandoval will share the high level process she takes when designing around existing landscapes or creating new landscapes.
Denise Sandoval is the landscape designer and owner of Good-Natured Landscapes LLC whose mission is to create beautiful, functional, and Earth friendly landscapes for the past 11 years. Every one of her designs focuses on sustainable practices and features native plants. One of her design projects received the Chicago Wilderness Native Landscaping and Conservation Award in 2014. Her greatest inspiration comes from the natural world. She enjoys sharing and learning from others through her blog, Facebook page, and nature walks. GoodNaturedLandscapes.com

---


You Can Really Save the Date Now!
September Shrub and Tree Sale, Hosted by Green Community Connections
Green Community Connections
, one of our partner organizations, is doing a fall shrub and tree sale. Fall is the best time to plant these large woody species because they will focus on establishing their roots systems.
It will be by pre-order only, opening August 5, 2016. Pick up is September 24, 2016. Ordering will take place here (same place as our Native Plant Sale): https://wild-ones-west-cook.myshopify.com/. GCC is working on the product list which will be updated soon.
Good info to read before you buy trees/shrubs:
For specific information about planning for and planting your trees/shrubs, you can read the National Wildlife Federation's guide (a PDF created mainly for volunteers but the sections relating to planning and planting are helpful):
https://www.nwf.org/pdf/Trees-for-Wildlife/Trees%20Wildlife%20Tree%20planting%20Web%20version.pdf
---
Thank You!

We had a great showing of volunteers for Thursday Night Out in Downtown Oak Park. We appreciated your double-level of volunteering--for TNO and for us as well.
---
Show Me-Help Me

Despite the intense heat, we had a full group for visiting Stephanie Walquist's gardens. It's really a great opportunity to see and talk native plants up close and to get meet each other as well.

We would like to schedule another one for September. Do you have native plants blooming then that you would like to share? Or would you like to get some input into your landscape?

The yard visit can take about an hour. It is informal and relaxed. Your yard does not have to be perfect, and you can focus on the Help Me part if you would like to gather from collective wisdom from other native plant enthusiasts.
Send Stephanie an e-mail here to sign your yard up: westcook@outlook.com
---
Add Your Yard to Our Wildlife Corridor


If you haven't added your yard yet and you have native plants, please consider completing this form: https://goo.gl/forms/mF7Xb0mpIfyt5FxG2
---
Upcoming Events:


August 14, 2016 (9 am to 1 pm): We will have a table at the Berwyn Farmer's Market: (26th St and East Ave. Berwyn, IL) talking about native plants and Wild Ones.

September 11, 2016 (Noon to 3 pm): We will be at Trailside Museum of Natural History, River Forest, IL for their Monarch Migration Celebration. Come see us!
September 18, 2016
(2:30-4:30 PM)
:
Fall Preparations: Clean-up, Seed Collecting/Storing, and Expanding Garden Beds
In this program presented by Stephanie Walquist (butterfly gardener and WCWO Vice-president), we will discuss the preparations that we can do in the fall to make next year even more beautiful and filled with life.
You will learn how to:
do an ecologically thoughtful (science-based) fall preparation for your gardens
collect seeds, clean them, and store them with a quick review about wintersowing
expand/create garden beds with minimal effort and yield maximum results next year
---
In Case You Missed It


A couple of interesting posts from social media (don't forget to follow us if you haven't):
---