December 2014 Newsletter

Message from Pam Todd, West Cook Wild Ones President
We are thrilled to be working toward some exciting events this Spring-- our collaboration with One Earth Film Festival in March on the Chicago launch of Catherine Zimmerman's new film Hometown Habitat, a presentation at Wild Things Habitat Conference on our growing wildlife corridor, our second annual native plant sale in May and our first annual Native Plant Conference featuring Doug Tallamy, author of Bringing Nature Home, plus workshops for beginners to advanced.

We also welcome two new additions to our volunteer Board of Directors: Katarina Berin, Erik Malone, and Laura Clearwater. They have already been instrumental in helping us out on several occasions.

Thank you from the bottom of our wild hearts for your continued support. If you are not already a member, this is a perfect time to gift yourself and others with membership at Wild Ones. Be sure that you affiliate yourself with our chapter, West Cook. And we hope you will gift us with your presence as a volunteer. Many hands make light work and we need yours! Say yes at westcook@outlook.com.

Below you will read about some of the news from the past month. But before you do, let's mention what's planned for next year.
January 18: Winter Sowing Workshop with Linda Walker. Get more plants easily by using this tried and true method of sowing seeds. January 31: Wild Things Habitat Conference. Keynote: Bill Kleiman on "How the Bison Came Back: Stewards and Scientists Restore Human and Natural Communities at Nachusa Grasslands"
February 15: Urban Forest with Kathryn Jonas
March: One Earth Film Festival
April: Show Me/Help Me: Focus on spring clean-up. Members only. Consider volunteering your yard.
May 17: Native Plant Conference featuring Doug Tallamy and other workshop presentations
Also in May: 2nd Annual Native Plant Sale (Let us know how your plants did from last year's sale too. westcook@outlook.com)
---
New to Natives?
We understand that we have members who have different levels of experience with native plants. For many, making the jump into using native plants can be overwhelming, and we want to make it as accessible as possible. Next year, look for Show Me/Help Me events, which are informal, small-scale yard tours. We visit one yard and get to be exposed to different plants or see the different ways they can be used. Let us know if you would like to volunteer your yard for one of the Show Me/Help Me programs. It will be a wonderful, low-key social event too.

Until next year, though, if you are new to native plants, please enjoy "Native Gardening Basics."

Native Gardening Basics
by Marni Curtis for West Cook Wild Ones
There are many ways to start using native plants in your garden. You can start to incorporate native plants into your existing landscape – or – you can start completely from scratch.
First, make an assessment of the environmental conditions (shady or sunny, drainage, soil types, irrigation, etc.). Also, make an inventory o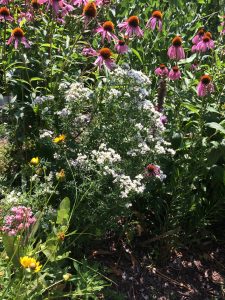 f your existing plants.
It is also helpful when creating a naturalistic landscape design to consider the associations found in specific plant communities (a prairie, wetland or forest). You may also want to visit some local natural areas to observe these associations first-hand.
Read more: Native Garden Basics



---
Leaves in the News


We've been promoting the retention of leaves in our yards, and this year mainstream news outlets picked up National Wildlife Federation's outreach about keeping leaves to provide habitat for the many animals that overwinter in them. In case you missed it, here is a link: USA Today. The Today show also discussed the issue on its November 20 broadcast.